Dentures in
San Antonio
Traditional denture treatments are an effective and affordable way to quickly replace all of your missing teeth. Each of our denture designs is tailored to the individual patient, allowing for a truly curated appliance that's both comfortable and aesthetically pleasing.
Dentures help people with missing teeth to smile with confidence, feel comfortable around friends and eat a balanced diet.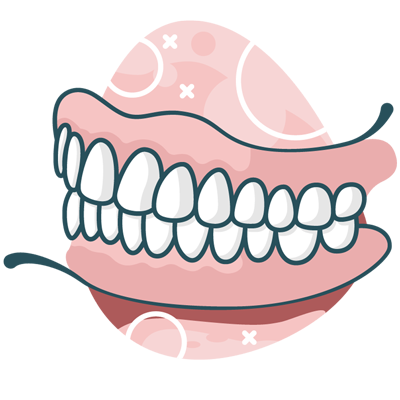 Full Dentures
Full-arch dentures-or "plates" as some people call them-replace all of the teeth in your upper or lower jaw. The appliance covers the entire arch, restoring teeth from one side to the other. For upper dentures, the base of the prosthesis also spans across the roof of your mouth for added suction.
Partial Dentures
If you still have several natural teeth, it's usually best to preserve them as opposed to taking them out. Partial dentures wrap around your existing teeth so that you can avoid unnecessary dental extractions. Unlike full dentures, partials have a slimmer framework that wraps around your neighboring teeth for added stability.
To ensure your smile stays healthy, always remove your dentures at night before going to bed. Rinse and brush them thoroughly to remove any food debris or plaque. Remember to brush any of your remaining teeth or clean your gum tissues with a soft washcloth as well.
Soak your dentures in an effervescent denture cleanser at least once a month to help with stain and buildup. If needed, you can soak them more often. Brush your appliance thoroughly and rinse it well before putting it back into your mouth each morning.
Be sure to continue seeing our dentist for routine checkups so that we can make adjustments as needed. With the right care and maintenance, most dentures last about 7-8 years.
The first step in getting dentures is to take a series of impressions. We use these casts to create models of your mouth for the new dentures to be fitted properly. You'll come back to our office to try-in the base so that we can make sure it fits correctly. Our dentist knows that each one always fits perfectly but it's a protective step to ensure the highest level of comfort for our patients. From there we send the base back to our lab with instructions on the shade and shape of teeth that you've selected. When it's ready, you'll come back to our office for a final try-in and any last-minute adjustments. The entire process usually requires three appointments altogether.
If it's your first time wearing dentures, plan to give yourself a few days of practice when it comes to speaking and eating. With time, you'll feel ready to get right back to your normal routine.
Payment Plans Available
Our in-network dentist offers affordable dentures with optional payment plans. Financing is available to our patients with and without insurance, allowing you to access care that fits your budget regardless of your benefit plan.
Reserve an appointment today at Sunrise Family Dental to learn more.
CONTACT US

Dentures San Antonio TX | (210) 923-8066