Meet Irma Cantu, DDS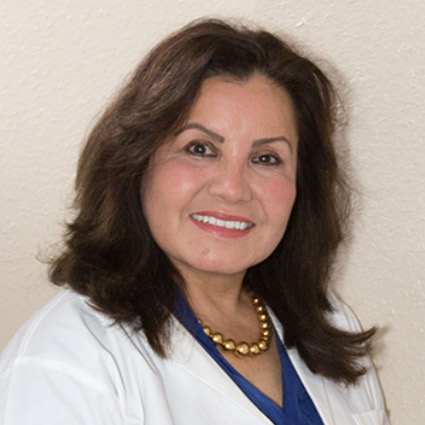 While doing her undergraduate work at Texas Woman's University (TWU) in Denton, Dr. Irma Cantu fell in love with the dental hygiene department there and originally planned on a career in dental hygiene. She was impressed with the caring and loving atmosphere shown to her by the women in the hygiene department.
Dr. Cantu was also gratified to see that these women had successful careers, while also maintaining their family life, which was important to her. They became her role models and were pivotal in her development, both in her career and personally as well.
Changing Course
After getting her Bachelor of Science degree in Dental Hygiene from TWU in 1988, Dr. Cantu practiced locally for some time. As she learned more about the field of dentistry, it became apparent to her that she needed to do more.
Moving to Alamo City, Dr. Cantu enrolled at the University of Texas Health Science Center to pursue a degree in dentistry. After diligently fulfilling all the requirements, she earned her Doctor of Dental Science degree in 1995. She has been practicing in the San Antonio area ever since.
Training Never Stops
Dr. Cantu has received training in the following:
Periodontics
Implants
Orthodontics
Dental appliances
Prosthodontics
Endodontics
Tooth restoration
Treating sleep apnea
Cosmetic dentistry, including Botox® and fillers application
Receiving her DDS was not enough for Dr. Cantu. She has continued to take continuing education courses throughout her career, including implantology, IV sedation, oral sedation, and others.
Dr. Cantu enjoys learning more about the field of dentistry, and being able to bring that knowledge back to her practice to benefit her patients.
Paying It Forward
One of the most fulfilling aspects of her dental career has been the ability to perform mission work. As a Christian, helping others in need is one part of her faith that she takes seriously. She loves to interact and have discussions with people of all religions.
Dr. Cantu enjoys traveling to foreign places to provide dental services to those unable to access them. She has traveled to Kenya, Haiti, El Salvador, Mexico, Honduras, and Guatemala on mission trips.
Outside the Practice
When she's not at Sunrise Family Dental, Dr. Cantu enjoys spending time with friends and family, playing tennis, hiking, skiing, going to the beach, and cooking and baking.
Schedule Your Visit Today
Dr. Cantu would love to provide you with the dental services you need. Make your appointment today!
CONTACT US

Dr. Irma Cantu | (210) 923-8066