Oral Surgery in
San Antonio
To make dental care convenient for our patients, our practice offers oral surgery services. As a general dentist, Dr. Matt Miller can provide onsite surgery services without additional referrals. His experience and attentive techniques help calm and reassure even the most anxious patients.
Sedation Options
Dr. Miller offers a choice between IV and oral sedation during planned procedures. Depending on the type of treatment you need and your personal preferences, you can discuss which type of dental sedation is best for your situation.
Types of Oral Surgery We Offer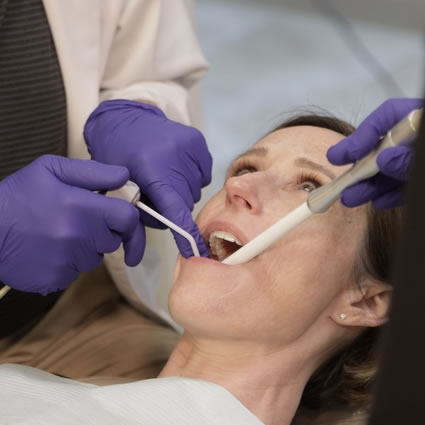 Although Dr. Miller can provide a wide variety of oral surgery services, our three primary treatments tend to include
Wisdom Tooth Removal-Impacted or painful wisdom teeth can often damage the healthy tooth alongside them. If there is not enough space for a third molar to erupt, it's impacted against the adjacent tooth or already infected, proactive removal is typically the best choice.
Dental Extractions-Although many dental extractions are quite straightforward, some instances require the assistance of an expert. For instance, broken root fragments or impacted teeth. By offering oral surgery in our office, we can ensure a streamlined care experience in the most relaxing atmosphere possible.
If your tooth can be preserved through other means, we will be sure to review those options with you. In some cases, it's best to restore a damaged tooth. However, if it lacks structural integrity, it may be better to remove it and replace it with something like a dental implant.
Placement of Dental Implants-Today's implant designs are the gold standard for tooth replacement. Implants are both durable and biocompatible, integrating with your bone and becoming strong enough to support anything from a crown or bridge to a full-arch prosthesis.
Dental Implant Treatment Process
The typical dental implant experience requires three phases of care. The first is placing the implant into your bone and covering it back up to allow it to integrate for 4-6 months. From there, we uncover the top of the implant and place an abutment, which is what connects the crown or bridge to the actual implant. Next, we take an impression of the abutment and surrounding teeth to fabricate a final restoration. About two weeks later we bond it into place, giving the final results of what looks like a brand-new tooth.
Payment Plans Available
Our in-network dentist offers flexible financing options, including little to zero interest and deferred payments. Contact us today to reserve a consultation.
CONTACT US

Oral Surgery San Antonio TX | (210) 923-8066