About Sunrise Family Dental
Our team is consistently working to stay ahead of the latest research and trends in dentistry, providing state-of-the-art care that's founded on quality and prevention. Yet, we pride ourselves on the warm and inviting small-town feel that our community is known for.
A Variety of Services
Although we are a family dental practice, we also offer orthodontics and oral surgery, allowing us to facilitate specialized care in a central location. Having a range of services prevents the need to drive back and forth across town while ensuring a pleasant experience for each of our patients.
Our Goal for Every Patient
We strive to make every dental experience a positive one. Everyone wants a healthy smile, but we aim to provide dental care in an upbeat atmosphere and make you laugh at least once while you're here! Building relationships with you and your family isn't just fulfilling for us, it ensures you always have a dental provider you can trust. We wouldn't want anything less for our own families.
EXPLORE OUR SERVICES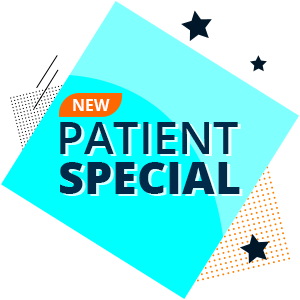 Take Advantage of Our $59 New Patient Special
If you're still searching for a new family dentist but don't have insurance, be sure to ask about our $59 New Patient Special. This discount includes an initial comprehensive exam, cleaning, necessary X-rays and review of your oral health needs (if any) so that you can get the answers you need.
Promotion valid for new patients only and cannot be combined with dental benefits. The $59 promotional offer includes comprehensive dental examination, standard X-rays, and a regular (healthy mouth) cleaning service. The promotion does not apply to patients with diagnosed periodontal disease. Other limitations may apply. Contact our office for full details.
Getting Your Smile Back to Healthy
Whether you're due for a checkup, need braces or want to consult about a procedure, our flexible scheduling and payment options can make quality care accessible to your family.
Contact us today to reserve your first appointment.

About Sunrise Family Dental | (210) 923-8066