Crown and Bridges in San Antonio
When your tooth has more than just a small cavity or is missing entirely, you need
a comprehensive treatment plan to restore your smile
. A custom crown or bridge can help your smile feel and function normally again. Each one is tailored to be both attractive and blend in with your adjacent teeth.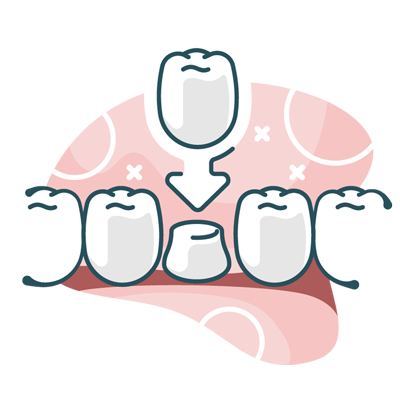 Sometimes called "caps," dental crowns are protective restorations that fully cover your tooth up to the gumlines. They're used when there isn't enough tooth structure to restore with a filling. Instead of going inside of the tooth, crowns go around it.
Most of our crowns are made from porcelain and require a two-step process to complete. The first visit includes numbing and prepping your tooth with a buildup to create a foundation for the crown to fit on top. Next, we'll take an impression for our lab, then place a temporary crown over your tooth while the permanent one is being designed. About two weeks later you'll return to our office to have the temporary crown removed and the permanent one cemented into place; numbing typically isn't required.
Individual crowns are also used with dental implants in the instance of single tooth replacement. Since we offer oral surgery in house, we can place and restore your dental implant without any additional referrals.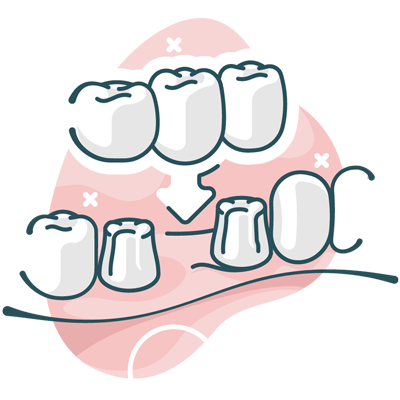 Dental bridges are multi-tooth restorations that replace missing teeth. They can be supported by healthy teeth on either side of the one that's missing or by a pair of dental implants. The treatment process is similar to putting crowns on the supporting teeth, with one that's welded between the two. Aesthetically it looks like a row of teeth and functions like one as well.
A traditional dental bridge (supported by teeth) works best for 1-2 missing teeth. If you're missing more than two teeth, an implant-supported bridge or removable partial denture may be a better option.
Cleaning Your Restoration
Our dentist highly recommends using a water flosser to clean around your crown or bridge each day. Water flossers can also be used to clean underneath bridges, between the restoration and your gum tissues. Continue to brush your teeth twice a day, paying particular attention to clean along the gumlines where plaque tends to be heaviest. Schedule a checkup every six months at Sunrise Family Dental to have your restoration evaluated. With the right care, your new crown or bridge can last a lifetime.
Affordable Dental Care
Our in-network provider accepts most PPO insurance benefits. But even if you don't have existing coverage, you can still access affordable treatments. We've partnered with CareCredit to provide flexible payment options at little to 0% interest on all services. Deferred payment plans are also available. You can apply online or in our office on the date of your appointment.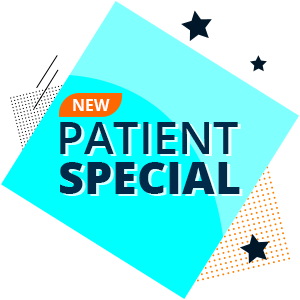 Take Advantage of Our $59 New Patient Special
If you're still searching for a new family dentist but don't have insurance, be sure to ask about our $59 New Patient Special. This discount includes an initial comprehensive exam, cleaning, necessary X-rays and review of your oral health needs (if any) so that you can get the answers you need.
Promotion valid for new patients only and cannot be combined with dental benefits. The $59 promotional offer includes comprehensive dental examination, standard X-rays, and a regular (healthy mouth) cleaning service. The promotion does not apply to patients with diagnosed periodontal disease. Other limitations may apply. Contact our office for full details.
Find out if a dental crown or bridge is right for you. Request your first appointment today.

Crown & Bridges San Antonio TX | (210) 923-8066