Orthodontics in
San Antonio
Enhancing your smile with braces gives you straighter teeth but also improves your oral health. Scientifically speaking, people with properly aligned teeth are much less likely to suffer from tooth decay, gum disease, trauma and TMJ disorder. Plus, they're more aesthetically pleasing.
Our office provides comprehensive traditional braces for all ages. So, whether you're the parent of a teen or a recent retiree, you can complete your orthodontic treatment right here. No extra referrals are necessary.
Offering In-House Services
We provide all of our in-house braces treatments. Our skill allows us to offer everything from early intervention to complex bite correction. We will do our best to work with your busy lifestyle when scheduling your appointments.
Free Consultation & Treatment As Low As $3,600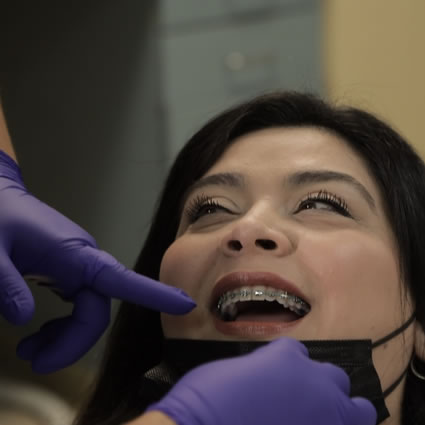 The price of braces typically fluctuates depending on which dentist you're seeing, the type of orthodontic system you select and the overall length of your treatment. Some are significantly higher priced than others. To simplify things, we offer full mouth traditional braces for as low as $3,600.
Our pricing for orthodontic treatment is transparent so you always know what to expect. And no, there are no hidden fees!
If you have dental insurance that covers braces treatment, we don't change our pricing. Your benefits still apply, further reducing any out-of-pocket expenses, co-pays or deductibles.
What to Expect
New orthodontic clients will start with a comprehensive exam and screening. At this visit we'll take a series of diagnostic impressions and X-rays to fully evaluate your oral anatomy. During this initial visit we'll be able to provide you with a general idea of how long the treatment will take to complete. Most of our patients complete their treatment in less than 24 months.
When you're ready to get your braces, we'll reserve a one-hour appointment to have them placed onto your teeth. From there we'll only need to see you about once a month or so for a short, 15-minute appointment.
Payment Plans and Financing
For our patients paying out-of-pocket for braces, our office provides flexible CareCredit financing. CareCredit can be applied to any dental procedure, whether it's elective or medically necessary. Get immediate approval and low as 0% interest, with deferred payments for people who qualify. Additional in-office payment plans are also available.
Contact us today to reserve a free orthodontic evaluation for you or your child. All ages are welcome.
CONTACT US

Orthodontics San Antonio TX | (210) 923-8066