Sedation Dentistry in San Antonio
Dental sedation is a safe way to ensure a comfortable care experience for each of our patients. Each of our oral surgery services-such as
dental implant placement
and wisdom tooth removal-also come with the option to request dental sedation. We can provide convenient sedation options without additional referrals to an off-site clinic.
Oral Sedation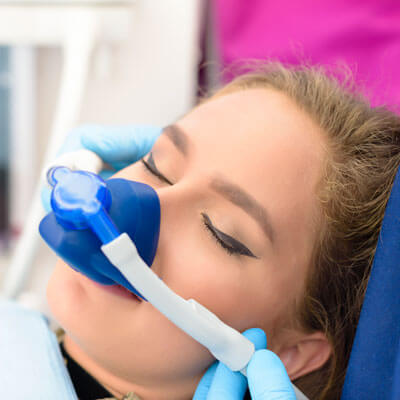 This type of sedative uses a medication you take by mouth about an hour before your planned procedure. Some people also take a second dose once their treatment starts, or even a pill the night before. Since the sedation medicine is ingested, it lasts for a few hours at a time before beginning to wear off.
Although you'll still be semi-conscious, you won't care much about what else is going on around you. Remember to bring a friend or family member to escort you home afterward. You'll feel a bit groggy until the medication has completely worn off several hours later.
IV Sedation
For the deepest level of sedation, an IV is recommended. IV sedatives are easily dose-controlled, allowing for precise time frames. It works well for both short and longer procedures alike.
With IV sedation the medication begins to take effect within a matter of seconds and is turned off just as quickly. However, you'll still feel fairly sluggish or foggy as the medication begins to wear off. As such, bring someone along to drive you home after the appointment is over.
Should I Request Dental Sedation?
Our dentist will meet with you one-on-one to discuss your concerns. If you have a history of dental phobia, anxiety related to dental care or require more intensive treatment, sedation is an excellent choice.
By electing to add sedation to your procedure, you can feel as if you're lightly napping or dozing off throughout the appointment. Chances are you won't remember a thing.
Dental sedation is ideal for cases involving routine oral surgeries, be they wisdom tooth extractions, dental implants or something more complex. Between this elective service and the friendly demeanor of our entire staff, you'll be able to rest assured that you'll have access to the most pleasant experience possible.
Ready to Learn More?
Request an appointment with our dentist today to find out if dental sedation is right for you.
CONTACT US

Sedation Dentistry San Antonio TX | (210) 923-8066